Our Registered Investment Advisor
We are proud to partner with Commonwealth Financial Network®, a leading Registered Investment Adviser ("RIA"), that helps independent advisors like us serve their clients. Commonwealth oversees total account assets of nearly $272.9 billion.1
Independent, Just Like Us
Commonwealth is independently owned and managed, which means the firm can act in the best interests of its financial advisors and their clients—not shareholders. Our partnership with Commonwealth supports the three core values of Your Dedicated Fiduciary®—authenticity, transparency, and value—so that we may act in your best interest, without any pressure to promote proprietary products or strategies.
How Commonwealth Helps Us Help You
Commonwealth offers the scale, stability, and resources that help us deliver the solutions you need. It's that infrastructure—and the always expanding wealth of resources it provides—that makes it easier for our firm to provide you with the best possible guidance and the prompt, personal service you expect and deserve.
Choice. Through Commonwealth, we have access to robust, independent market research, financial planning knowledge, and a wide universe of investment options—from individual stocks and bonds to mutual funds, exchange-traded funds, alternative investments, managed accounts, and retirement plans.
Service. The firm's advisor-to-staff ratio is one of the best in the industry. This means staff members answer our calls promptly, execute transactions quickly and accurately, and, in general, offer our firm the same highly personalized, white-glove treatment we provide you.
Technology. Commonwealth's technology platform is a critical component in our ability to keep you on track to meet your financial goals. Its integrated web-based systems allow us to more efficiently manage your portfolio and your overall financial life.
Security. Commonwealth excels in its commitment to safeguarding your privacy and ensuring that your investment data remains secure. Its encryption standards, redundant data centers, and disaster recovery plans make us confident that the information our clients entrust us with will remain secure.
A Reputation You Can Trust
J.D. Power ranks Commonwealth "#1 in Independent Advisor Satisfaction Among Financial Investment Firms, Nine Times in a Row."2 But it's what that achievement means for our clients—on a daily basis—that makes the difference.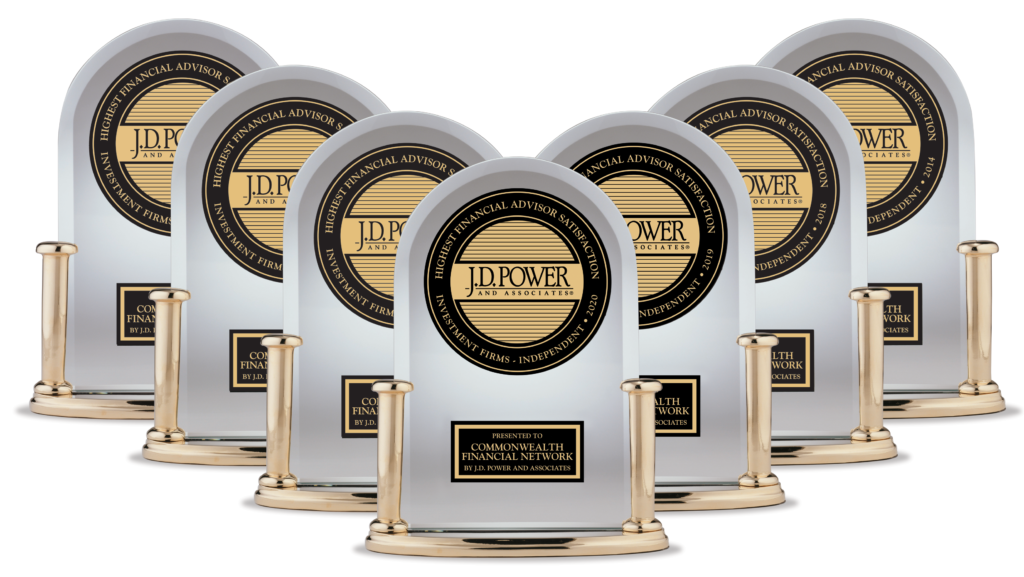 Committed to Helping Those in Need
Commonwealth's commitment to service does not end with its advisors and their clients. For more than four decades, the firm has been dedicated to serving the communities where its employees and affiliated advisors work, live, and visit. Its charitable foundation, Commonwealth Cares, works to provide contributions of time, talent, and financial support to a wide range of philanthropic causes. That kind of dedication to the greater good is just one more reason we're proud to be affiliated with Commonwealth.
If You'd Like to Know More
We'd be glad to talk with you further or answer any questions you may have about our affiliation with Commonwealth. Just ask!
1 As of 12/31/21
2 Commonwealth received the highest score among independent advisors in the **J.D. Power 2010, 2012, 2013, 2014, 2018-2022 U.S. Financial Advisor Satisfaction Studies.** Presented on 7.6.2022 for January to May 2022 and is based on responses from 3,039 advisors employed by or affiliated with the firms included in the study. Not indicative of the firm's future performance. Your experience may vary. Use of study results in promotional materials is subject to a license fee. Visit jdpower.com/awards for more details.